Pirate Radio Address List "PIRATEN.WDB"

Address information for pirate radio stations on MW and SW

www.schoechi.de/pwdb.html


SRS-D Drop Box Sample pictures Ordering conditions for PWDB


Online and up-to-date : Links to all the E-MAIL's and WWW-pages
of the pirate radio stations that are included in the 'Piraten.WdB' List
This is an information page about my pirate radio address list called PIRATEN.WDB. It's a list I edited in the years 1994-2006. So you can expect some experience with these matters from me.

I took all available information about pirate radio FROM 1990 - 2007 and made one big list of it. The source of my information is always given in a special column. At the moment there are 3167 entries in the list.

We are doing this to help other listeners to get more QSL's and even to help the pirates to get more letters, don't we ?

WARNING !

This list contains certainly a lot of old and maybe outdated information !

Many information given are here are intended (and should be used) nowadays only as a reference !

I gave always the latest known information or address or a station.

You have to decide if you want to write
to someone who was last active many years ago !

Pirate Radio Address List 'Piraten.WdB' by Martin Schöch also available in an electronic version

The Pirate Radio Address List 'Piraten.WdB' edited by Martin Schöch with more than 3167 pirates on SW and MW from around the world is now also available in an electronic version, as a pdf-file.

The price is 3 USD for a one year subscription (6 USD/5 EUR for two years). Within this year you'll receive an updated list every month via E-mail. The pdf-files are ready for an easy print-out at home or you can look up the stations quite easy at your computer screen. The font size is small of course but the necessary program Adobe Acrobat Readers of course allows to magnify the page size on the screen.

The electronic version will have the same content as the printed version, that means 50 A4-pages, a cover page and an explanation page and of course the index for all 508 different postboxes that appear in the list. The current list covers all pirates from 1990-2007.

All requests or money orders (cash or PayPal - but not via credit cards!) to Martins E-mail or to
Martin Schöch, Postfach 10 11 45, 99801 Eisenach, Germany.

---
Sample pictures of the List :

left : data section right : address section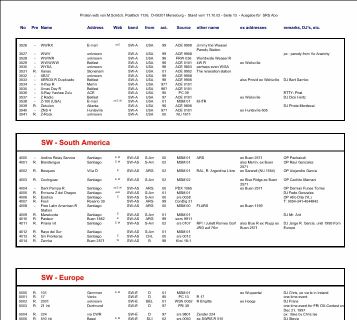 Click on the pics in order to bigger versions !
---
Abbreviations used in the List :
Prefix - the name is Radio...... De........ The......... Zender........... (not Voice of....... !)
Name : station name
from - station from... (not necessarily the same as the transmitter location)
active - the latest known activity in the year of.. (fp=future plans '96 ? ' means only a guess by me)
txm on - transmits on SW=Shortwave MW=Medium Wave REL=stations are not a pirate, but are relayed by pirates
-E... in Europe- A... in America North -AS...in South America -PA... in the Pacific
Street-Box - address Zip code - address City - address Country - address

data from - information has been used from these resources :
ABD = Achim Brückner-D

ARN = Axel Röse-D

AYM = Andrew Yoder-USA

BQD = Björn Quäck-D

CLT = Chris Lobdell-USA

CON = Claes Olsson-S

CSW = Chris Smolinski-S

DMM = Dario Monferini-I

DSL = Doug Sharrard-G

GZC = George Zeller-USA

HJK / HKN = Hans-Jürgen Koch-D ex Freeradio-Page

JPU = Jari Pensikkala-FIN

JTA = John T. Arthur-USA

KFR = Klaus Führlich-D

LvD = Lex van Dijken-HOL

MMS = Mathias Martin-D

MSM = Martin Schöch-D

NWO = Niel Wolfish-CAN

PKZ = Peter Knol-HOL

PPA = Piet Pijpers-HOL

PWV = Patrick Willför-FIN

RBH = Rainer Brandt-D

RPL = Robertas Pogorelis-BEL

RSG = Rudolf Sonntag-D

RSP = Roberto Scaglione-I

UPF = Ulrich Preissler-D

WEH = W.Erdmann-D

ZLT = Zacharias Liangas-GRC
remarks : - former address or address used in parallel (ex = former add, also = add used in parallel),
T : telephone number, - type of music and name of DJ or OP
other name - other used names or abbreviations or slogans
---
Simply write to me, enclose the money in your letter (or use PayPal !) and you'll get access to an up-to-date address-list from me via E-mail/FTP. The stations are divided into regions and the order inside each region is alphabetically after station name.
Write to : Martin Schöch - Postfach 10 11 45 - 99801 Eisenach - Deutschland
---
Prices for the electronic list :

List in PDF format
The list has 50 pages (normal A4). You can print it or use at your screen.

you'll get access to the download site for the 6 PWDB-address files for the following prices :

3 US Dollar / 3 Euro (for 12 month) or
6 US Dollar / 5 Euro. (for 24 month)

---

Of course you can also combine the access to PWDB with the access
to my QSL Information Pages QIP. You can get the 2 lists for the same price..

I'm also accepting PayPal payments,
but please contact me reg the address
---
PWDB Mailing List :
If you do want to get access to the PWDB Address
List (subscription 3 EUR / 3 USD per year) fill in your e-mail and also send me a short personal mail !
Martin Schöch
---
Notes :

Other pirate radio address lists are/were available from Axel Röse, Neuss, Germany, Hans-Joachim Koch, ex Niddatal, Germany, Werner Schauermann, Niddatal, Germany, Wolfgang Erdmann, Hamburg, Germany and Klaas Vonk, Bergum, Netherlands.

DUTCH MW PIRATES : The head of D.P.R.S., Derek Taylor has retired. But now his daughter Annette does the service. Address lists are not any longer available. If you want to contact a station that is (or was) connected with DPRS, simply send your 'rapports' with 2 US $ / IRC's to Preston ! The address is DPRS, 12 Dorman Road, Preston PR2 6AS in England.

The Pirate-Service established by Patrick Willför (Langviksgatan 24 B 13, 65100 Vasa, Finnland) has closed down in 1998 (?) and will only re-open if DPRS closes down again.

If you ever want to contact unknown GREEK MW PIRATES, please contact Z.Liangas, he may be able to help you ! Contact : 40 Ethaminis Str., 54621 Thessaloniki, Greece.

For ITALIAN PIRATES - information also can be obtained via Play DX, Via Davanzati 8, 20158 Milano, Italy.

Unfortunately also SRS Ytterby closed down in 2006, ex No 29 as well as later No. 49 are now closed. You might contact SRS Germany if you need a new driop box ..

---
Thanks for cooperation and help to Jonny @ SRS and all the others !
Martin
---